About Kira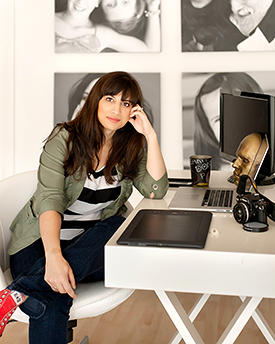 I'm Kira Derryberry. I'm a nerd to the core,  a workaholic, and yes, I'm terrified of zombies. Let's face it. With a name like mine, you can't take yourself too seriously. And I don't.
I caught the photography bug in high school and set out in life to become a fashion photographer. I soon found out that there were limited resources for learning the craft in my hometown, so I left for The University of Alabama where I studied photography, digital art, and web design. I met the love of my life on my very first day and after college got married and followed him to Tallahassee, Florida, for work. I took a job at an advertising agency as a web designer and for the next few years got settled into this lovely town.
In 2008 we had our beautiful daughter, Lucy, and I suddenly became inspired to pick up my camera again. Soon shooting pictures of Lucy became shooting pictures of friends which then became shooting pictures of their friends until—before I knew it—I had a full blown side business! Early in 2010 I was lucky enough to be able to resign from web design and make photography my career. It's been the best decision I've ever made, and I've never been happier with both my personal and professional life. Life is good.
Custom Photography Sessions
But enough about me! Let's talk about your session. My style is to shoot with studio or natural light in my studio, on location at your home,  at your favorite location, or at one of Tallahassee's gorgeous locales. My goal is to capture moments in your life that show the natural beauty inside you and your loved ones. My photo shoots are designed not to force you into a clichéd, conventional pose, but to tailor my shoot to your attitude and energy and create a unique photo that is as individual as you are.   One of the great things about this job is that I get to know all of my clients and their personalities. Sometimes we're silly, sometimes we're sassy, but mostly we have fun and roll with the punches.  Somewhere in between all that, I get to take the pictures that make you melt, make you feel confident, and make you smile for years to come.
I look forward to meeting you, finding out your passions and making them come to life in front of the camera. Please feel free to contact me with any questions. Thank you for giving me the opportunity to be a part of the special moments in your life.
Kira Derryberry's work has been featured in multiple publications including the March 2016 cover and featured article in Professional Photographer. She is a Certified Professional Photographer and Photographic Craftsman. In 2013 and 2014, Kira was voted Best of Tallahassee by Tallahassee Magazine readers. She currently is the president of the Tallahassee Professional Photographers Guild and very involved in both her state organization and the Professional Photographers of America. When not working with clients, Kira spends a portion of her time teaching on a variety of photo related subjects to the photographic community.